Breon Ansley leaves classic physique division due to weight cap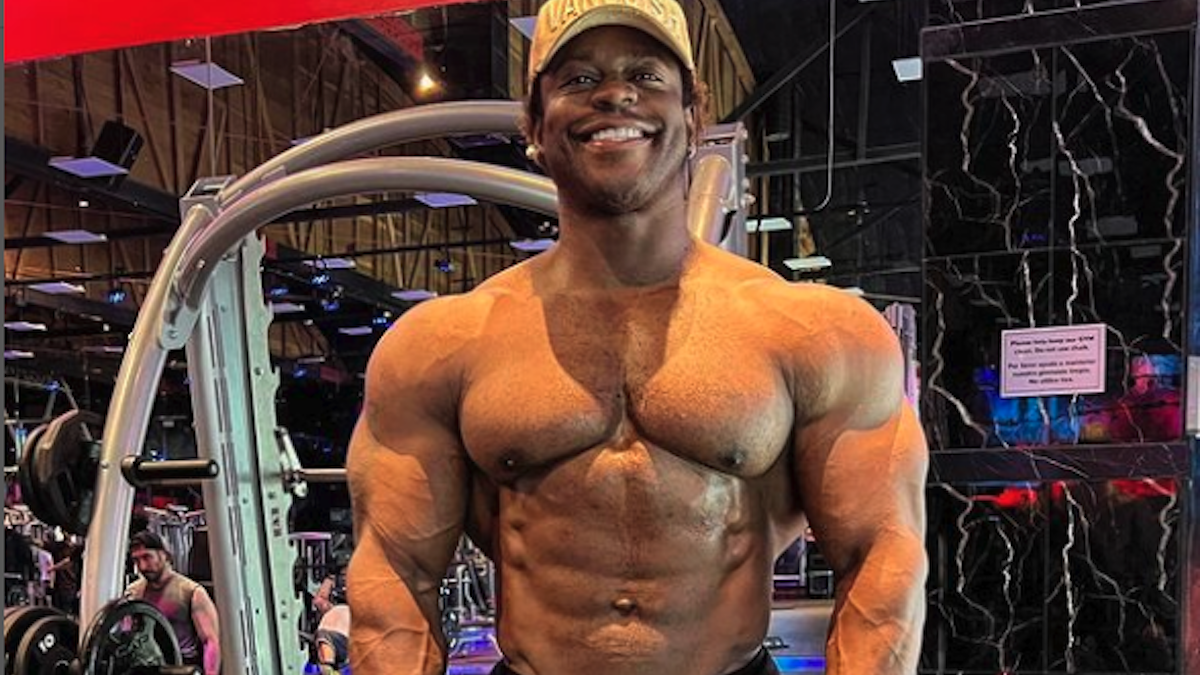 Bobybuilder Breon Ansley rocked the bodybuilding community with his March 19, 2022 announcement on his Instagram page which 2022 will be his last year competing in the Classic Physique division. He went public with his decision to quit the Classic Physique two weeks after competing in the 2022 Arnold Classic (AC), where he finished fourth.
My rankings have slipped – from second to third at the Olympia and now fourth at the Arnold.
The two-time Classic Physique Olympia champion shared further insight into his decision in a candid YouTube video. He revealed the weight cap in Classic Physique is the main reason for leaving the division. Under IFBB Pro rules, Ansley's weight cap at a height of 5'7″ is 185 pounds. Watch the full video below:
[Related: Watch Bodybuilder Nick Walker Train Hamstrings During His Offseason]
AC 2022 was the first time Ansley did not finish in the top three since making his debut in the Classic Physique division at the 2016 Arnold Classic, where he finished fourth.
We'll see what next year [2023] and the next chapter of the competition brings us. I feel like I have a lot left in the tank.
It won't be the first time Ansley has changed divisions in his career. Prior to the creation of the Classic Physique division in 2016, he competed in his first pro show – 2014 New York Pro – in the 212 division, placing outside the top 16. After finishing 15th at the 2014 Europa Phoenix Pro, Ansley took a year off in 2015. He made a return to the 2016 Prestige Crystal Cup as a Classic Physique competitor and won the gold medal.
I didn't do my best on stage [2022 AC] and I know I could be a thousand times better.
According to Ansley, his physique is at its best when he has more muscle mass than he can currently support competing in Classic Physique. His inability to put on muscle mass due to the weight restriction is the main reason for his decision to leave the division.
Ansley thinks the 190-pound range is where his body shines. Notably, he weighed 206 pounds on March 19, 2022 – the day he announced his departure from Classic Physique. He further explained that slimming down to the low 180-pound range to hit his Classic Physique class weight cap made him look too diety, deflated, and tired.
Classic Physique athletes are free to gain weight after pre-contest weigh-ins. However, according to Ansley, there is a 48-hour window between gaining weight and hitting the stage. That's not enough time to fill out enough without compromising muscle conditioning, separation, and density.
Ansley gains weight through intense cardio and a low-calorie diet 12 to 15 weeks after a show. This leaves him looking flat and deflated come competition day. He explained that he would look stronger if he added to his diet instead of aggressively reducing it before the show. Essentially, he is at a disadvantage against athletes in the division who are under their weight cap. These athletes can build the muscle mass they want and support it with more food before a competition. If he was allowed to pack more mass beyond his weight cap, he would remain in Classic Physique.
[Related: Watch Flex Lewis and Rafael Brandão Train Chest Together at the Dragon's Lair Gym]
Breon Ansley's game plan for the future
In his YouTube video, Ansley has revealed he will be on one show (and potentially more than one) before Olympia 2022. Without divulging in detail, he said he was 20 weeks away from his next competition. But this time around, instead of waiting until last week, Ansley intends to put on some weight when he's six or seven weeks out from the contest. This technique is likely to help him bring a lean, sharp and diced physique to the stage.
It won't be easy — we know we're aware of it and we're ready for it.
Olympia 2022 will be Ansley's last competition as a Classic Physique competitor. The 43-year-old will face Chris Bumstead, three-time defending and reigning Classic Physique Olympia champion, Terrence Ruffin, two-time AC Classic Physique winner, and 2022 Kuwait Pro and Boston Pro winner Urs Kalecinski, among others. The 2022 Olympia weekend is scheduled for December 16-18 in Las Vegas, NV.
Featured Image: @breonma_ on Instagram—